04 / 12 / 2017
For Healthy Life Forum has opened its doors
The 8th International Forum on Non-Communicable Disease Prevention and Promotion of Healthy Lifestyle – For Healthy Life opened its doors at the Russian Health Care Week 2017 at Expocentre Fairgrounds.
"The For Healthy Life international forum is the most recognized platform in our country to discuss key issues of health care" pointed out co-chairman of the organizing committee of the Russian Health Care Week 2017, Deputy of the Russian State Duma Nikolay Gerasimenko. He emphasized that for the fourth year in a row the Forum is held at Expocentre Fairgrounds in Moscow and expressed his gratitude to Expocentre management for the opportunity.
Nikolay Gerasimenko and General Director of the National Medical Research Center of Cardiology of the Russian Ministry of Health Care Sergey Boytsov were moderators of the Forum plenary meeting.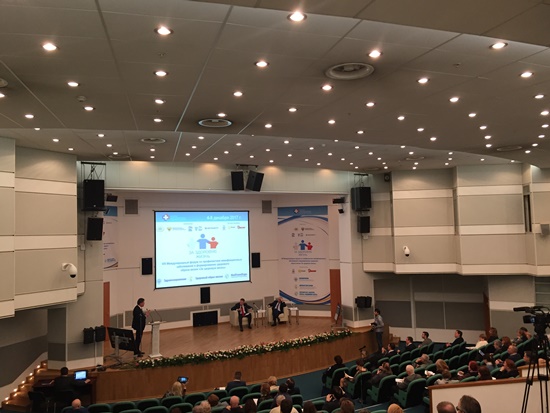 The meeting participants – heads of Russia's leading medical institutes and centres – identified the most important tasks which face the Russian medical and health care industries. Among other things they discussed factors affecting increase in life expectancy, challenges of nuclear medicine, work of therapeutic service, innovations in cardiology, implementation of telemedicine technologies, eating habits of Russians and new approaches to nutrition issues as prevention of different diseases. Representatives of the Sverdlovsk and Tomsk regions told about implementation of regional programs on non-communicable disease prevention and promotion of healthy lifestyle.
The Forum will run from December 4 through 6. Heads of federal legislative and executive authorities, leading Russian and international experts, heads of health authorities of Russian regions will take part in breakout sessions and round tables devoted to the most burning issues of health care of citizens. Representatives of Russian and international community and science, experts in education, culture, sports, economy and demography will express their opinions as well.
Expocentre Press Service

print version
News subscription