06 / 12 / 2017
Expocentre hosted the Club of Heads of Trade and Economic Missions
Expocentre Fairgrounds hosted a meeting of the Club of Heads of Trade and Economic Missions (departments of embassies) of Foreign States accredited in Moscow. The meeting was timed to coincide with the Russian Health Care Week 2017 and devoted to the medical tourism.
The club is an informal group of heads of trade and economic missions. Its main aim is to increase efficiency of foreign economic ties between countries, improve the export and import structure, and search for new commercial and investment projects.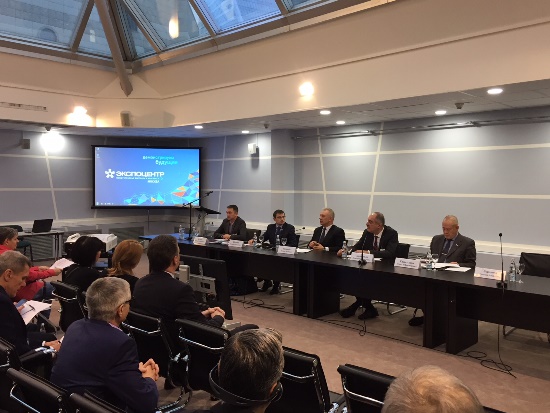 Participants included committee member of the Russian Council of the Federation Dmitry Shatokhin, member of the International Relations Committee of the Russian State Duma Murad Gadylschin, Head of Russiatourism Directorate Evgeniy Kudelya, foreign trade representatives, representatives of Russian federal authorities, businessmen. The meeting was moderated by Grigory Sarishvili, Vice President of the Club, Deputy Chairman of the Government of the Republic of Komi and Permanent Representative of the Republic of Komi at the President of the Russian Federation.
In his welcome speech, Deputy General Director of Expocentre Mikhail Tolkachev said that the Russian Health Care Week was a series of important events, exhibitions and conferences related to the medical and health care industry. They all bring together more than 900 exhibitors from all over Russia and 35 countries. It is the first year that the Week includes the MedTravelExpo 2017 exhibition which shows Russian spa and resort facilities and promotes medical tourism in Russia.
According to Mr. Kudelya, medical facilities in Russia are well equipped. Doctors can use the latest medical technologies to treat patients and perform surgeries. It costs ten or even twenty times less than in other countries.
Representatives of Gabon, Hungary, Slovakia, Switzerland, the Association of Medical Tourism Agencies, RusMedTravel and MedicaTour talked about medical tourism in their countries.
Press Service, Expocentre AO

print version
News subscription