16 / 02 / 2018
Negotiations between MedicaTour Ltd. and the Russian Cardiological Complex of the Ministry of Health of Russian Federation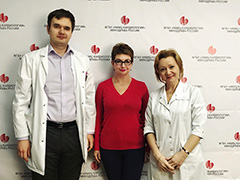 On February 14, 2018, the management of MedicaTour Ltd. was invited to the Russian Cardiology Research and Production Complex of the Ministry of Health of the Russian Federation to negotiate on future cooperation.
"For our company, it is a great honor and prestige to work with this outstanding medical institution of our country headed by such famous doctors as Academician V.F. Zelenin, Academician AL Myasnikov (who was a member of the group of doctors involved in the treatment of I.V. Stalin), E.I. Chazov and in which the first persons of our country were treated, "says Tatyana Sokolov, CEO of MedicaTour Ltd.
The complex impresses with its power - it consists of 26 buildings, and the architecture of the complex was awarded the State Prize. The most modern equipment, doctors of the highest qualification, the possibility of carrying out not only standard cardiological procedures, but also unique ones developed only in this center.
The complex constantly conducts research and invented medicines.
After the negotiations, the management of the Cardiology Complex kindly invited representatives of MedicaTour Ltd. to visit the historical museum at the Center, in which the most interesting exhibits, rare photographs, unique documents related to the Center's activities were collected.
Currently, the Center faces the task of attracting not only Russians, but also CIS citizens, as well as patients from all over the world, to the treatment, because in the Cardiological Complex they not only provide high-tech help, but the prices for all procedures and operations are very affordable, that undoubtedly will attract patients from different countries.
The company MedicaTour has extensive experience in medical tourism and will gladly help to organize all logistics for receiving patients from near and far abroad.
"Together with such well-known and outstanding partners as the Russian Cardiology Research and Production Complex, we will raise the prestige of medicine of our country to the world level," said Tatyana Sokolov, General Director of MedicaTour.
Website of MedicaTour Ltd.: http://medica-tour.ru

print version
News subscription