28 / 05 / 2018
Inspection by the management of MedicaTour Ltd. of the unique clinic Vingyana at Reefs in Sri Lanka
From May 10 to May 15, 2018, the management of MedicaTour was invited on a business visit to Vingyana at Reefs, a new clinic in Sri Lanka, to familiarize with the treatment options available in the clinic for Russian patients and patients from the CIS.
The clinic Vingyana at Reefs is an oasis of peace, harmony and beauty, located in the most picturesque place on the coast of the Indian Ocean. The clinic practices a comprehensive approach to treatment: it combines evidence-based medicine with Ayurveda, as well as Unani's system of medicine and most importantly Deshiya Chikitsa (Sri Lanka's indigenous medicine).
The clinic presents a variety of programs for treatment, prevention and recovery.
The clinic is equipped with expensive equipment for local and complete hyperthermia, which is now successfully used to treat cancer patients. The clinic has a unique program for curing diabetes of grade 2, migraine, autoimmune diseases, chronic kidney disease. A very relevant and popular today's program Detox here has its own characteristics - the program uses unique juices from fruits and vegetables, which are only in Sri Lanka.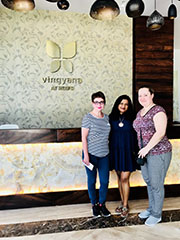 The clinic successfully uses intravenous therapy, natural plant extracts, oxygen therapy (there is a hyperbaric chamber), hyperthermia, halotherapy, sensory deprivation, colonotherapy, yoga, tai chi, qigong.
All procedures in the clinic are aimed at strengthening immunity and therefore treatment in "Vingyana at Reefs" helps prevent relapse.
CEO of one of the leading medical tourism companies MedicaTour Tatyana Sokolov proposed to develop special clinics for preventive medicine. We all know that the great misfortune of people is the high concentration of heavy metals in the blood, and these are carcinogens, which can subsequently cause cancer. In the near future, the clinic will offer programs to remove heavy metals from the body, and special preventive programs will be developed to prevent diabetes and oncology if there were such diseases in the family. It will be enough once a year to undergo such preventive treatment and you will be healthy and happy.

The clinic employs a friendly international team of professionals. Doctors and specialists from Australia, America, Sri Lanka and the Philippines.
"I whole-heartedly recommend this unique clinic, because even the name here speaks for itself - Vinyana in translation means" life force". Here, you will be filled with energy, health and harmony. And I'm very glad to inform you that this clinic will take part in MedTravelExpo-2018 in December."- says Tatyana Sokolov, Founder and CEO of MedicaTour Ltd.
Website of MedicaTour Ltd.: http://medica-tour.com/

print version
News subscription